May 21, 2019
Here's what my garden looks like today: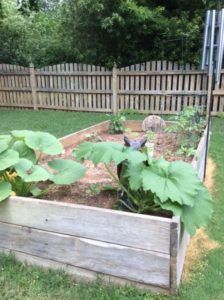 I just love having a vegetable garden! True, some years I spend enough money growing a handful of green peppers and 12 tomatoes – enough that I could have gone to the Farmer's Market every week for 4 months. But I love the idea of watching the wonder of plants growing and producing vegetables. In addition, there's nothing better than a BLT with a big fat warm tomato right from the garden.
Each year I marvel that the tiny seeds bring forth little plants, then the little plants begin to grow stronger and eventually flower. Then comes the good stuff!
But in the meantime, there's a lot that goes on. First there are the weeds. They're pesky and plentiful. Nearly every day I'm out there pulling up weeds. Then there are the bugs. I don't know what to do about them, unless they start eating my plants. When that happens, the spray comes out. We also have to account for bunnies, and there are a LOT of them in my yard.
Even the garden owl doesn't seem to deter the bunnies (and they like zucchini blooms, which means no zucchini for me.)
Worst of all is when it gets too dry. After the rainy winter and spring we've had, it's hard to imagine that the garden ever dries out, but that's a strong summer sun, and it does. When I go out to water and weed in the evenings, it's so sad to see my plants drooping and dying of thirst – and it doesn't take long! It's so gratifying to shower them with the hose and in just a short time they're all perked up and ready for a new day.
So it is with our spiritual lives. Sometimes we let weeds grow in our spirit, and they simply have to be plucked out. Weeds like greed, pride and envy – they have to go. Sometimes a 'bug' gets in to our thinking, and we have to get rid of them too. Bugs like 'busyness' and shift of focus from what's really important. They have to be banished! And the bunnies – things that look super-cute at first, then we realize the damage they can do. Things like hanging with the wrong crowd, going to movies that turn out to be not-God-honoring, or chasing a bad habit instead of letting go.
Sometimes we find ourselves drooping and dying of thirst. Not in our physical bodies, but in our souls. The world starts to look bleak and we lose spiritual energy and hope. Sometimes we get so dry we must go back to the well. Jesus met a woman at a well who was drooping and dying of thirst, a woman who had lost hope. He said to her, "Everyone who drinks this water will be thirsty again, but whoever drinks the water I give them will never thirst. Indeed, the water I give them will become in them a spring of water welling up to eternal life." (John 4:13-14)
March 13, 2019
A few weeks ago I wandered into the garden department of Wal-Mart. I was instantly drawn to the seed display, a reminder that Spring is really on the way! Even though I knew it was too early to plant, I decided that this year I'd plant my seeds indoors and move them outside after the last expected frost.
S
o, I bought seeds to plant broccoli, brussels sprouts, two kinds of tomatoes, lettuce and cucumbers. I also purchased a tray with little dirt pods so I could start them inside.
Once the "6-8 weeks before the last frost" arrived, I set to work planting my seeds. The brussels sprouts and broccoli sprouted within a few days. Those were the ones that I had to thin out, and that was hard, pulling out little plants that were growing. But that's what the instructions said!
But my tomatoes were silent. Not even a peek of green. I looked every day (okay, several times a day), and nothing was happening. Nothing. More nothing.
Then one day, about 2 weeks later, a little bump of green appeared on the surface of the dirt. Lo and behold, the tomatoes were on their way! Everything's getting so tall, I'm hoping they'll all be okay until April 15th when they can go outside.
Watching my over-achieving broccoli and brussels sprouts, and my slow-to-start tomatoes reminded me that on our spiritual journey, we all go at a different pace. Some of us are born into the church, and our faith is an integral part of who we are. Some of us turn away from our religious roots, and wander around wondering what life is all about. Some of us never heard of faith in Christ until we were older, or not even yet. Some of us bloom late and figure out what a life of faith is after we've tried everything else.
The Nurturer (God) never gives up on us, no matter how fast or slow we are to turn to Him. God waits patiently for us to sprout, and then He stays with us on the journey until we're bearing fruit for His Kingdom (God's plan for us on earth.)
Wherever you are in your faith-sprouting, I hope you'll continue to grow.

If you have questions or are stuck, I hope you'll contact me so we can talk.

If you've never been to a church, or it's been a long time, I hope you'll try it out again.
Wesley is a warm and welcoming church, and I have no doubt you will feel at home if you visit. Who knows? You might just begin sprouting in a new way for Spring!