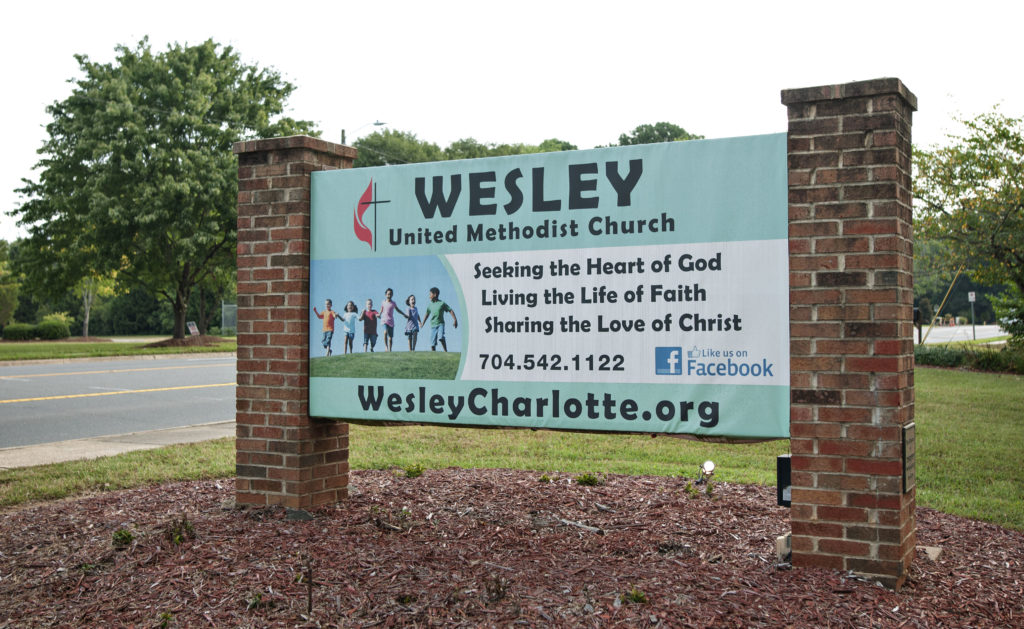 Wesley UMC was established in 1977, and is an active part of the community. Our church has approximately 100 members and is in a season of revitalization. The United Methodist Church stands for Open Minds, Open Hearts and Open Doors. You will find a friendly family, meaningful worship, spiritual growth opportunities and serving opportunities at Wesley UMC. Rev. Judi Hunt has served as pastor here at Wesley since 2013; you can get to know her a little more here (link).
Our street address is 3715 Rea Road, Charlotte, NC 28226
When you come to Wesley United Methodist Church, we think you will find yourself right at home! We are a multi-generational church and seek to welcome all who enter our doors. There is no dress code, and most of us dress casually, but if you're comfortable in a suit & tie that's good too. When you arrive you'll see "guest parking" spaces close to our main entrance on the left side of the parking lot area. You will be greeted at the door by one of our friendly volunteers. Please ask them anything! Coffee and goodies are available in the gathering area as you enter.
Children's Sunday School is offered on the 1st and 3rd Sunday's of the month at 9:45 a.m. The children are checked in at the classroom (to the left when you enter the main door.) We practice Safe Sanctuary policies. You can see that policy here: Safe Sanctuaries. Adults are invited to jump in to an informal Bible study in classroom 1 (also to the left when you enter the main door.)
The worship center is to the right, and the classrooms are to the left after you enter the gathering area. Rest rooms are located in both hallways.
The contemporary-style worship service is at 10:30. Everyone, including the children, is welcome in the service. For youngsters staying in the service there are Sanctuary Sacks available just as you enter the Sanctuary. The Sacks contain sermon guides and plenty of activities to keep little hands busy. Learn more about Fig Tree Ministries (children and youth) here: Fig Tree Ministries
During the service the entire congregation is asked to fill in a small card indicating that they were in worship on that day. On the card you may also sign up for our e-mail blasts, ask to connect with Pastor Judi or have any additional information sent to you. You can also request prayers or seek membership information.
Communion is celebrated on the first Sunday of each month. In the Methodist church, there are no restrictions to the Lord's Table, so all are invited to partake in communion. We serve by intinction, which means as you come forward you will receive a piece of bread in your cupped hands, then dip the bread lightly in the cup. We serve grape juice, and are also prepared with gluten-free elements for those with sensitivity. You are then invited to offer your prayer at the kneeling rail, or you may return to your seat.
As a first time guest you will receive a welcome gift bag and an invitation to return!