Matthew 25:35-40 35 For I was hungry and you gave me something to eat, I was thirsty and you gave me something to drink, I was a stranger and you invited me in, 36 I needed clothes and you clothed me, I was sick and you looked after me, I was in prison and you came to visit me.' 37 "Then the righteous will answer him, 'Lord, when did we see you hungry and feed you, or thirsty and give you something to drink? 38 When did we see you a stranger and invite you in, or needing clothes and clothe you? 39 When did we see you sick or in prison and go to visit you?' 40 "The King will reply, 'Truly I tell you, whatever you did for one of the least of these brothers and sisters of mine, you did for me.'
We believe it's important to support our community and our world out of the abundance of blessings we've been given by God. We pray for our mission partners, and here are some of the tangible ways we share the love of Christ with them:
Wings of Hope Wings of Hope is a group home in Haiti just for children with special needs. We sponsor a concert every January to raise funds to support this mission.
The Christmas Shoppe The Christmas Shoppe is a joint effort with Good Shepherd Presbyterian Church and Peace Moravian Church to provide a place for under-resourced families to purchase Christmas gifts for their families. Each year we collect items to sell (new coats, games, bicycles, etc.) and items to be used for a full Christmas dinner. Members then volunteer to assist pre-approved families who come to make purchases at the Shoppe.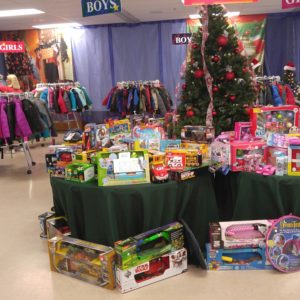 Second Harvest Food Bank We collect food items all year round for this organization that helps to feed hungry people in the Charlotte area. We sponsor "Peanut Butter Sunday" on the first Sunday of each month, encouraging members of the congregation to bring in Peanut Butter on that day.
SERVING OPPORTUNITIES AT WESLEY
(maybe under ministries?) There are many ways to serve God in and through Wesley, and we think it's important for everyone to find a place of service where they can be joyful and thrive. If you would like to serve, or would like to explore where you can serve, call Tracy at 704-542-1122, or e-mail her at
info@wesleycharlotte.org
. Another way to discover opportunities is to take the MAGI Spiritual Gifts Discovery workshop. You can learn more and see the schedule here: (link)